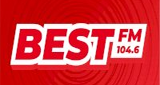 Best FM Online
Country:
Hungary
Best FM - Best FM Rádió - Best FM Online BEST FM Online ról
Hallgasd online a BEST FM vagy korábbi nevén FM95 rádiót, mely több mint 20 éve van az éterben. A név, a logó, a frekvencia 2011-ben a nagy rádióspiaci átalakuláskor változott meg. A Best Fm regionális rádió, a 104,6 MHz-es frekvencián hallgatható. Fő hallgatóközönsége Debrecen és 30 km-es körzete, valamint az online rádióadásnak köszönhetően bárki, aki szereti a jó zenéket. Rádióra a családias hangulat és a hallgató központúság jellemző, zenei stílusát a sokszínűség jellemzi. A rádió a környék legnépszerűbb rádiója, minden harmadik rádiót hallgató a BEST FM-et választja. Népszerűségüket más sem mutatja jobban, mint, hogy az országos rádiók után az ő online hallgatottságuk a legmagasabb. BEST FM - Debrecen szlogenje: A zene rádiója. Best FM is a broadcast radio station in Debrecen, Hungary, providing Pop, Rock and Hip Hop music.
Best FM Online reviews :
No reviews added yet. Be the first to add a review for the station.
Leave a review